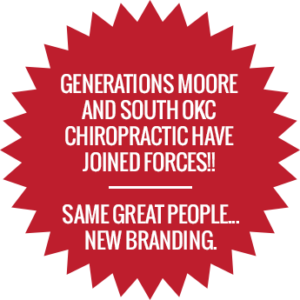 Schedule your $99 first appointment. ($330 Value)
Includes Initial Exam,
X-rays, and Relief Treatment
Schedule Your Appointment Now
South OKC

Office Hours –
Monday-Saturday
9:30AM – 12:30PM, 3:00PM – 6:00PM
Phone – 405-604-5295
Fax – 405-604-5297

Location
8013 S. Western Ave Suite A Oklahoma City, OK 73139

Moore

Office Hours –
Monday-Thursday
9:30AM – 12:30PM, 3:00PM – 6:00PM
Phone – 405-735-8282
Fax – 405-735-8262

Location
1991 Tower Drive Suite G ​Moore, OK 73160




What our clients are saying
Absolute miracle worker! They have always done a great job and always make me feel better! I leave every time feeling taller and stronger. Incredibly professional and courteous.They always make you feel physically better!
Sara H.
If you are reading through reviews trying to find a good Chiropractor. You've found it! Don't go anywhere else until you try here. I went in with weekly migraines and now only months after, I have not had a migraine at all.
Jackie M.
If my son likes it you know it's good! He won't let very many touch him and he loves it here!!! 🙂 Definitely one grateful momma for full nights sleep again after just 1 adjustment on my 4 year old son. Had his second adjustment today and he did even better!!! Thank you to all of the very sweet staff!
Jamee W.
I have been suffering with lower back pain for about a month. After only my 2nd visit of being adjusted, I have felt relief. THANK YOU, THANK YOU, THANK YOU! I can tie my shoes again!
Tracy J.
SUPPORTING SPINAL HEALTH
Call our South OKC office at 405-604-5295
or our Moore office at 405-735-8282 to make an appointment.
"Observational study found that low back pain patients receiving chiropractic care, which typically includes spinal manipulation, are more satisfied than those receiving medical care." – New England Journal of Medicine
For more information or to schedule an appointment with us, call the South OKC office at 405-604-5295 or our Moore office at 405-735-8282 today!