When you schedule an appointment with any medical provider, you want to have the best possible experience. By setting realistic expectations and familiarizing yourself with the do's and don'ts of chiropractic treatment, you can get the best results and feel more comfortable, especially if it's your first time getting an adjustment. Here's our guide to what to expect at the chiropractor.
Do's
What should you do at your chiropractic visit?
Arrive a Few Minutes Early
You might have to fill out new patient forms with information like your insurance and medical details. Getting to your appointment a few minutes earlier will give you ample time to complete this paperwork.
If it's your first visit, an early arrival can also help you settle in and prepare some questions beforehand. You can also take the opportunity to speak to staff and read brochures while you wait to go into the exam room.
Wear Comfortable Clothing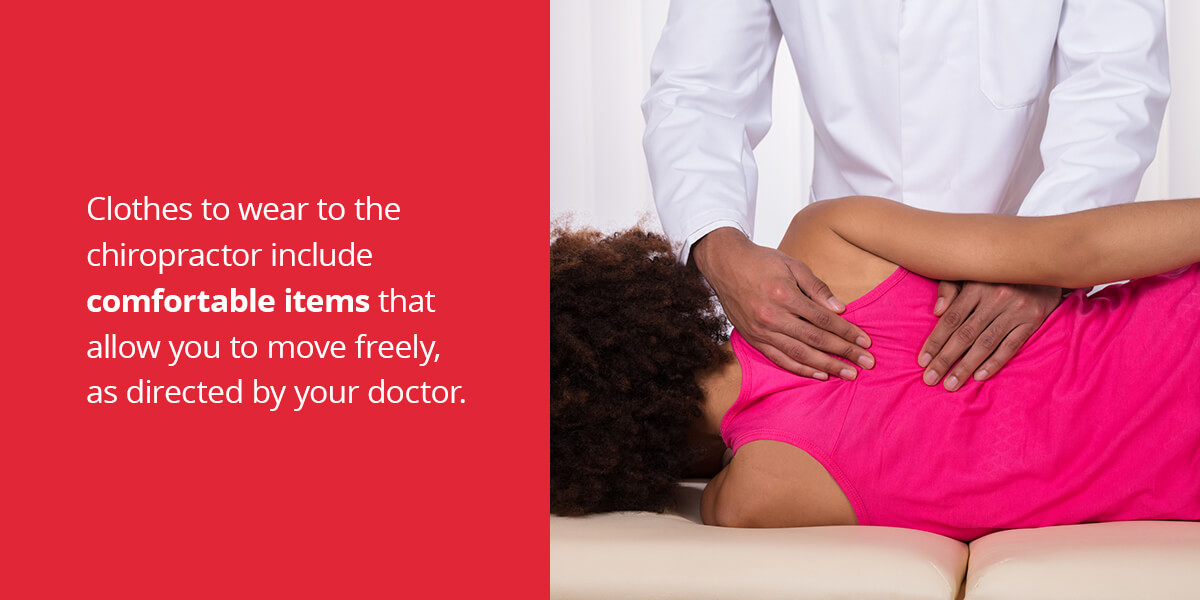 During an adjustment, your chiropractor may work on multiple body parts like your neck, back and shoulders, applying pressure to your joints and spine. Clothes to wear to the chiropractor include comfortable items that allow you to move freely, as directed by your doctor. Your chiropractor may also need to do X-rays. Wearing loose-fitting clothing will make the whole process more seamless.
Constricting clothes can make it challenging to adjust your body. Here's what you should wear to the chiropractor:
Loose-fitting shirts
Leggings or sweatpants
Shorts
Few or no accessories
Comfortable shoes like sneakers
Flexible, stretchy fabrics
Communicate Your Problem Areas
Though it may feel slightly awkward, telling your chiropractor about your symptoms and lifestyle is the best way to get the most out of your experience. While your chiropractor will examine and diagnose you, articulating various symptoms like back pain and describing your sleeping or sitting habits is essential. Speaking to your doctor openly and honestly can help you get the most accurate treatment.
Fill out Pre-Appointment Paperwork
While you can fill out your paperwork in the waiting room, many doctors will email you forms or ask you to download documents from their website. To save time, you can fill these out in advance. That way, if you run into traffic or have meetings that make you stressed on the day of your appointment, you'll have the peace of mind that comes with being prepared.
Don'ts
Here's what to avoid doing when visiting the chiropractor.
Don't Be Afraid to Ask Questions
Concerning your health and wellness, there's no such thing as a silly or frivolous question. Your chiropractor is there to address your concerns and help you understand the chiropractic process. They want you to be an informed patient and have a positive and insightful experience. Whether you ask several questions before your adjustment or pepper them throughout the appointment, your chiropractor will do their best to answer them concisely.
Don't Tip Your Doctor
You can pay your chiropractors like you would any other physician. They are medical professionals and bill you according to the services they offer. Your chiropractor does not require or expect any additional thank you, including tips.
Don't Skimp on Water Afterward
Staying hydrated after your treatment is essential because applying pressure to your joints and adjusting various body parts can cause stiffness. Drinking water will help with muscle recovery.
Chiropractic adjustment can also release toxins into your body, causing various flu-like symptoms such as  headaches and nausea. Drinking water after your treatment is necessary to flush out those toxins. Continue drinking lots of water for several days following your adjustment to improve your body's functionality.
What to Do After a Chiropractic Adjustment
Having a checklist of things to do before and after a chiropractic adjustment is vital. While you may feel better after one appointment, following your doctor's advice is essential for achieving the best results.
Your chiropractor can prescribe post-treatment exercises for stretching, working on painful areas or improving your posture. They can also recommend lifestyle changes like sleeping and activity level according to your diagnosis. Chiropractic treatment focuses on long-term results. Respecting the process can provide a sustained, positive outcome. Here's what you should do after each appointment:
Stay active by walking and taking the stairs.
Be mindful of the process.
Drink lots of water.
Be patient with yourself.
Practice good posture.
Stick to your treatment plan.
Follow your chiropractor's recommendations as best as you can.
What to Avoid After a Chiropractic Adjustment
Post-adjustment, you must consider how your daily habits affect your postural alignment. Your body can take time to adapt and recover after treatments. Getting back into work and physical activity can be a gradual process.
You may also have to change the way you approach your everyday activities to avoid undoing the progress you've made. For example, if your back pain results from sitting for too long, you could set a timer to remind you to stand up more often or invest in a standing desk.
Reverting to your old habits can cause problem areas to flare up again. Here's what not to do after chiropractic adjustment:
Don't stop following your prescribed plan.
Don't sit for too long to avoid pain and misalignments.
Don't skip your appointments.
Refrain from overexerting yourself at the gym or at home by doing strenuous workouts or activities.
Start Your Chiropractic Journey Today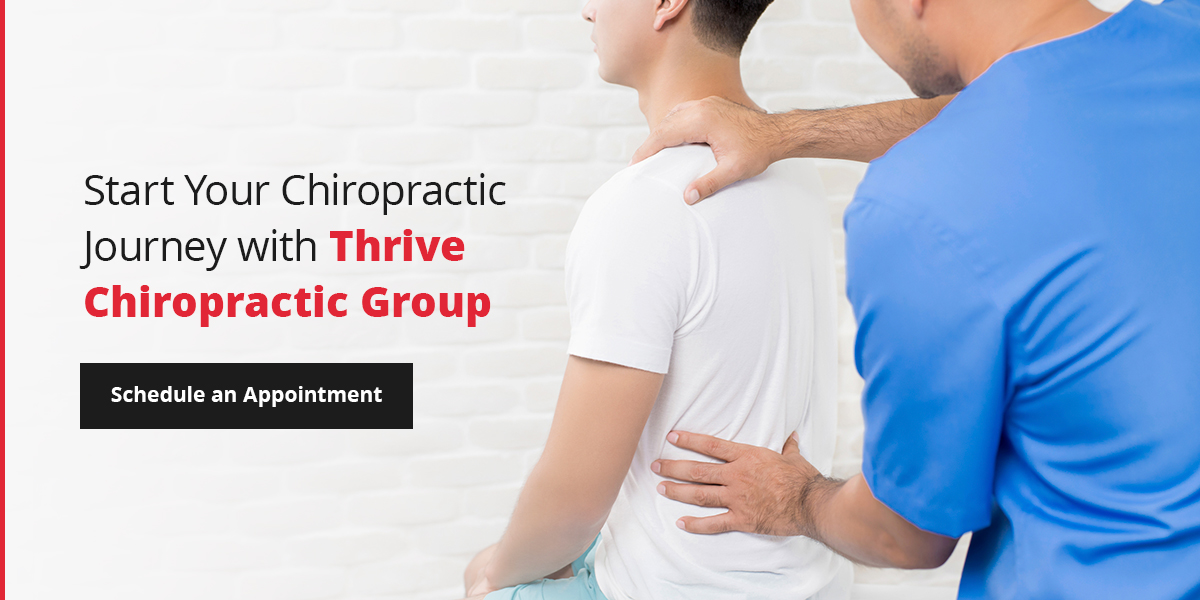 Chiropractic care can improve your body, lifestyle and mindset. Thrive Chiropractic Group offers more than pain relief — we focus on correcting long-term spinal injuries by providing affordable long-term care to heal your problem areas.
Our experts create customized treatment plans that include exercises, nutrition and stretching recommendations. We provide support and insight throughout your chiropractic experience to pave the way toward your long-term health. Now that you know the do's and don'ts of chiropractic visits and post-adjustment, reach out to us today to schedule an appointment.