Thrive Chiropractic in South OKC, OK
Schedule with the most reviewed Chiropractic Clinic in OK!

Hours
Monday • Wednesday • Thursday
9:30AM – 12:30PM
3:00PM – 6:00PM
Contact
Phone – 405-604-5295
Fax – 405-604-5297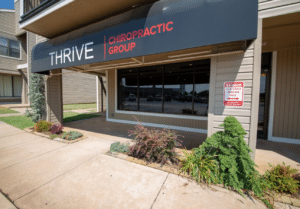 At Thrive Chiropractic Group in South OKC, OK, we help patients with a wide range of conditions manage their spine health. Your spine needs regular care, just like your other body parts, and we can assist you with the process when you have an injury or condition that affects your spine or if you want to practice preventative care. We have sports, family and geriatric chiropractors ready to provide the treatment you need to thrive. Plus, our Moore office has more than 250 reviews from satisfied patients. We have many patients who drive from Norman, OK and the surrounding cities to receive care at our office.
How Our Family Chiropractors Can Help You
Research reviewed by the American Chiropractic Association suggests that chiropractic care is relatively safe, effective and cost-efficient for patients with a wide range of conditions and injuries. According to the studies they collected, chiropractic care:
Is the most recognized and frequently used form of complementary and alternative medicine, thanks to high patient satisfaction.
Helps patients relieve acute or short-term and chronic or long-term pain when combined with traditional medical treatments.
Offers some of the highest patient satisfaction rates out of available back treatments in pain care.
May relieve tension headache symptoms when they have a cause related to the neck or spine.
Optimizes health care costs by providing long-term advantages that can result in improved cost-effectiveness over time.
Delivers better symptom relief for some patients compared to traditional pain treatments.
We offer a full range of chiropractic services to bring these benefits to patients with a variety of spine and neck symptoms. With chiropractic treatments like ours, you could experience better relief from your condition.
Get started for only $99
Get the care your spine needs by scheduling an appointment at our office at 8013 South Western Ave. Suite A in South Oklahoma City, Oklahoma. Our chiropractors serve patients on Mondays, Wednesdays and Thursdays from 9:30 a.m. to 12:30 p.m. and 3 p.m. to 6 p.m.